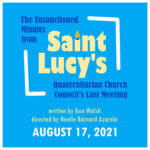 Free* Staged Reading with Audience Feedback
August 17 at 7:30 PM
3315 Wade Ave, Raleigh, NC 27607 (Peace Hall Assembly Room 201/Clara Barton Room changed to Founders Hall on lower level to better accommodate Raleigh's 8/13 mask mandate)
Supernatural signs surface at sleepy Saint Lucy's. Can a bumbling band of blabbermouths, busybodies, and bureaucrats keep the congregation from noticing and still recover their beloved lost statue?
Featuring a fully vaccinated cast:
          Mia Peters as Rita
          Pimpila Violette as Katey
          Michael Parker as Rev. Parker
          Aubrey Hancock as Ellie
          Nicola Lefler as Violet
To best comply with building rules for this space, we ask that audience members be fully vaccinated for Covid-19 and wear masks during the production. The cast have agreed to be screened before the reading, and we ask that guests only attend if feeling well that evening. Check back here before August 17 to see if conditions change.
After completion of the 90-minute reading, we'll hold a moderated discussion that invites audience members to share thoughts and ask questions to help improve the script (written by Raleigh NC playwright Ken Walsh).
Partly produced under the auspices of Cary Playwrights' Forum's "Workshop Series" program. Logo design by Emily Graham.
Contact Ken Walsh at kennywalsh@mindspring.com or 919-833-3395 for any further details. https://www.facebook.com/events/356448362745649
* Tip jar (no Venmo) available to help director Noelle Barnard Azarelo and cast pay bar tabs.