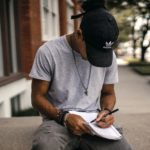 Writers – are you stuck in the writing process? Do you need feedback on your current draft? Well, The Cary Playwrights' Forum is here to help! We can provide our experience, knowledge, and resources to schedule a workshop event for your script!
Workshop Series
Workshopping a script typically means having actresses and actors perform the current draft of your script as either a table reading or a staged reading. The performers can be given the script weeks in advance or only a few minutes. But whatever the exercise, the workshop series is designed get direct feedback from your actors, actresses, and audience members as needed.
Hearing feedback can be intimidating, but CPF believes any feedback will only strengthen your script. And we can help you distinguish bad (non-constructive) criticism from the positive (constructive) criticism.
To organize your workshop event, CPF can help you with the following:
Provide a moderator to elicit audience reactions after the reading / performance
Guidance on determining the type of workshop
Publicity (CPF social media, etc)
Selection of venue. CPF gets discounts on Town of Cary facility rentals but even someone's living room will work!
Advice on budgeting, if necessary. Workshops don't need to be a big production.
Gathering volunteers: actors, possibly director, etc.
How do you sign up?
Email the CPF board (cpfinfo@caryplaywrightsforum.org) with a one-page proposal describing your script and general idea for the workshop. Include at least 3 feedback questions you want the performers and/or audience members to answer during the workshop. And feel free to include any questions, concerns, or reservations you may have about the process.
Your workshop proposal will be subject to approval from the CPF Board. It is likely that a CPF producer will contact you for further consultation before the board's decision is finalized.
Your chances of board approval will increase if time and monetary investment from CPF is minimized. But also consider that a workshop does not need a big production to be successful.
Please ask for help if you have questions – even before you write a proposal.
IMPORTANT NOTE: scripts must have first been critiqued at a regular CPF monthly meeting, and then revised. We want to have first met you in person. 
Questions? Please email us. Your ideas and thoughts are MOST welcome!
Thumbnail photo by Brad Neatherly (Unsplash).