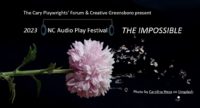 Join us Saturday Night for the YouTube Live premiere of our FINAL WEEK of the 2023 NC Audio Play Festival!
Our final two audio plays are about IMPOSSIBLE CONCLUSIONS!
WHEN
Saturday, August 19th @ 7:30 PM
The Cary Playwrights' Forum YouTube Channel
The Age of Invisibility, or The Eyes Have It (Mystery / Satire)
Written by Salinda Tyson
Directed by Rachel Klem
Sound Design and Editing by Jay Zadeh
Synopsis: Who stole a bundle from the corner store?
Featuring the Voice Talents of Troy Suter, Jarred Pearce, Nat Sherwood, Randle Kennedy, Amelia Lumpkin, Denise Sepic, John Paul Middlesworth, and Rachel Horowitz
The Monsters are Back on Maple Street (Sci-Fi / Satire)
Written by George Jack
Directed by Mike Brannon
Sound Design and Editing by Mike Brannon
Synopsis: Aliens take drastic action when their Earthen test subjects refuse to get along.
Featuring the Voice Talents of Nicole Weintraub and David Klionsky
Questions?
Contact the producers @ ncaudioplays@gmail.com
Who We Are – CPF and GPF
The Cary Playwrights Forum workshops and develops new stage plays written by North Carolinian playwrights. Its mission is to provide NC playwrights and aspiring playwrights opportunities to develop as dramatic writers. CPF is a nonprofit 501(c)(3) organization.
Founded in 1993, Creative Greensboro's Playwrights' Forum supports local aspiring playwrights in getting published or produced through contacts, marketing, and improving their skill as dramatic writers.