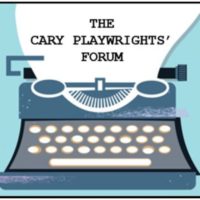 The Cary Playwrights' Forum proudly presents the new full-length stage play COMING BACK FOR ME by Amy da Luz!
About the Play
Dorothy is a middle-aged woman, mother, spouse, and dead-end cubicle worker. One day she's visited by a mysterious presence that turns her identity inside-out. She discovers her true self through expressive, provocative art pieces – much to the chagrin of her husband and young son. With her finances close to ruin, and familial responsibilities mounting, can Dorothy afford to call herself an artist?
Join us for this powerful piece about artists and the world they navigate.
Where
800 Taylor Street, Suite #9-156
Durham, NC 27701
Showtimes
Friday, September 8th @ 8:00 PM
Saturday, September 9th @ 8:00 PM
Sunday, September 10th @ 2:00 PM
Friday, September 15th @ 8:00 PM
Saturday, September 16th @ 8:00 PM
Sunday, September 17th @ 2:00 PM
Buy Tickets – $24 plus tax (no additional fees)
Creative Team
Michael Parker – Director and Set Designer
Yamila Monge – Stage Manager
Mikki Marvel – Properties and Projections Designer
Juan Isler – Sound Designer
Erin Bell – Lighting Designer
Christian O'Neal – Producer
Stephanie Turner – Publicity Coordinator
Cast (alphabetically)
Akili Holder-Cozart – Shasta (Dorothy's co-worker)
Jason Christ – Matthew (Dorothy's husband)
Joanna Herath – Arlene (Dorothy's supervisor)
Melanie Simmons – Dorothy
William Kalland – Older Leo (Dorothy's son)
Xenon Winslow – Leo (Dorothy's son)
Special Thanks
Mia Peters
Marina Enslen
Chloe Anderson
OUR SPONSORS
The Cary Playwrights' Forum is supported by the United Arts Council of Raleigh and Wake County, as well as the N.C. Arts Council, a division of the Department of Natural and Cultural Resources.