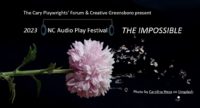 It's Week 2 of 2023 NC Audio Play Festival!
Our next two audio plays focus on THE IMPOSSIBLE: AFTERLIFE
PREMIERE VIDEO
The audio plays were uploaded to our YouTube channel on Saturday, August 12th @ 7:30 PM
The Cary Playwrights' Forum YouTube Channel
His Feed Don't Touch the Ground (Sci-Fi Drama)
Written by Larry Bliss
Directed by Roni Nicole
Sound Design and Editing by Jay Zadeh
Synopsis: A father and daughter cross the barrier between this life and the next.
Featuring the Voice Talents of Meredith DiPaolo Stephens, Moshe Hyzon, and Daniel Ryder
Jane Gets Sent (Fantasy Comedy)
Written by Teddy Durgin
Directed by Camille Christina
Sound Design and Editing by Kenny Hertling
Additional Post-Production Effects by Jay Zadeh and Jason Corder
Synopsis: A life-long pet lover is sent to a different place after they discover Heaven is crowded with people.
Featuring the Voice Talents of Gabrielle Vizcaino, Aldo Covarrubias, Joanna LaForgia, Jared Joyal, and Terrell Sanders
And stay tuned! We have TWO MORE audio plays in production for the 2023 festival. The final two will premiere on Saturday, August 19th!
Questions?
Contact the producers @ ncaudioplays@gmail.com
Who We Are – CPF and GPF
The Cary Playwrights Forum workshops and develops new stage plays written by North Carolinian playwrights. Its mission is to provide NC playwrights and aspiring playwrights opportunities to develop as dramatic writers. CPF is a nonprofit 501(c)(3) organization.
Founded in 1993, Creative Greensboro's Playwrights' Forum supports local aspiring playwrights in getting published or produced through contacts, marketing, and improving their skill as dramatic writers.