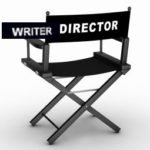 Master Class Series: "Directing for Writers" workshop (age 16 & up) –  Saturdays Sep 9–30, noon-2 p.m.
Explore potential pitfalls and opportunities that exist in the collaboration between director and playwright and how to create a rewarding collaboration for both parties. Includes "hands-on" practicum culminating in a staged reading of new work from our recent writing classes.
Burning Coal Theatre Company member and MFA Fred Corlett instructs (bio below).

Location: Cary Arts Center (101 Dry Ave, Cary, NC 27511)
Fees: $50 (4 classes) – registration will be available Aug 7 (Cary residents – otherwise Aug 21) through the Town of Cary programs (class #106926)
===============================================
FRED CORLETT'S BIO:
My theatre career began in 1965, as a junior at Broughton High School, where I played Chief Sitting Bull in the Rogers and Hammerstein musical ANNIE GET YOUR GUN.  That began a history of playing non-singing roles in musicals.  While still in high school I became a fixture at the Raleigh Little Theatre where I learned the ancient and hallowed traditions of the theatre.  I learned about tech.  I built sets, hung lights, and pulled curtains (remember them?).  I would eventually act in, or direct, 18 productions (under 8 different directors) over a 50 year period for RLT – the greatest training ground anyone could wish for.
In 1968 I served an Equity Apprenticeship at the State Theatre of N.C. called the Vagabond Playhouse, in Flat Rock.  I built 10 sets that summer, and played Paris in ROMEO AND JULIET, and the Tin Man in THE WIZARD OF OZ.
From 1967 to 1971 I worked in the BFA program in Dramatic Art at UNC – Chapel Hill, specializing in directing.  Haskell Fitzsimmons and I were the first BFA directing majors to graduate from UNC.  I returned to Raleigh for 4 years where I performed at RLT and the new Theatre in the Park.  TIP produced original productions every year, mostly written by the director, David Wood.  I was in 2 original productions there, both directed by the playwright (one of whom was to become Broadway star Terence Mann).  I also directed the first of 2 productions I would direct for RLT.
In 1976 I returned to Chapel Hill and earned an MFA in directing in 1978.  Haskell would get the same degree a year later, and become the  Artistic Director for RLT for 30 years (directing me in 3 productions).  It was while working on my MFA that I directed my first production where the playwright was present for rehearsal.  It was not always amicable.
Immediately after graduation I joined the N.C. Visiting Artist Program, co-sponsored by the N.C. Arts Council and the N.C. Community College System.  I did paid residencies at Anson Community College and Rowan Community College.  I followed this with a residency in the Artist in the Schools Program in Franklin, N.C.  There I directed 20 one-act plays in one semester at the High School in addition to creative drama workshops at the Middle School.
During the 4 summers between those residencies I stage managed the Outdoor Drama UNTO THESE HILLS on the Cherokee Reservation.
From 1983 – 1986 I lived in New York City, where I stage managed 10 shows, acted in 2, and directed one.  Both shows I was in were directed by the playwright.
In 1986 I moved to Concord, N.C. where I designed lights, acted, and taught acting at The Old Courthouse Theatre.  In 1989 I moved to Cleveland, N.C. and acted for the Piedmont Players in Salisbury, and directed for the Statesville Little Theatre.  In 1993 I moved back to Raleigh and continued to act and direct at the 2 excellent community theatres.
In 2008 I would begin working at The Burning Coal Theatre, which is an Equity house, and has become my theatrical home.  Two of the plays I performed in there were original, and the playwrights were able to attend rehearsals.  They were professionally directed by 2 of the best directors I have ever worked for, and the symbiosis was extraordinary.  I have also directed 3 shows there with the playwrights in residence, one of which required several hours of discussion over multiple days to hammer out a common vision.  I continue to be a member of the Artistic Company, and will be acting in the first play of the 2017/2018 season.
At about the time I started working with Burning Coal I directed an independently produced original play at the Common Ground Theatre in Durham in which the playwright attended most rehearsals.  I respected his work,  and he frequently acquiesced to my interpretation.  We remain good friends to this day.