We hosted a Volunteer Appreciation event on Jun 25, 1:30-4:30pm, at The Cary Theatre! If you have helped us through the years in any capacity, please join us for lunch, movie and CAKE! Just email thom.haynes@caryplaywrightsforum.org to be added to the evite invitation!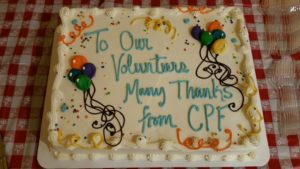 Click here to see a video of the PPT slide show shown at the party, with pictures from many of our productions through the years!
Itiniery:
1:30 pm – buffet of sandwiches, chips, salad, drinks
2:15 pm – short Thank You presentation
2:30 pm – movie "ENTER LAUGHING" (1967, directed by Carl Reiner)
Brew Cafe will have beer and coffee, etc, available for purchase.
Questions about this event should be sent to the producer Laura (laura.arwood@caryplaywrightsforum.org).
Board of Directors: Thom Haynes, Laura Arwood, Lydia Sbityakov, Phil Lewis, Marina Enslen, Christine Morris