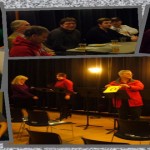 The Cary Playwrights' Forum 2012-2013 year of productions is wrapping up and plans are already underway for the 2013-2014 year of playwriting activities and events.
This past year was a busy one…kicking off with our 2012 "Play in a Day" produced in cooperation with the many "playwrights" who visited the Cary Playwrights' Forum booth at the Town of Cary's 36th Lazy Daze Arts & Crafts Festival! A special thanks goes to Heather Boggs for her work "behind the scenes" to organize this effort on behalf of CPF and for her creative contribution in crafting a fully developed play out of little scraps paper with unusual dialogue and scenes written on them by our booth visitors!
Our first staged reading of the year, Storytelling, was held on November 9th at the Triangle Wine Company and November 10th at Cary Arts Center. A special thanks for this event go to our producer, Nicole Barnard Azarelo and director, Jesse A. Lowe as well as to our talented ensemble cast members – Brian K. Thacker, Craig Johnson, David Klionsky, Elaine Quagliata, Gus Allen, Jeanine Denning, Jeffrey A. Nugent, Nora Kelly and Terry Townsend. And, of course, to our creative, local playwrights – Jesse Lowe, Steve Gallagher, Linda Depo, Mike Rogers, Nicholas Gray, Phil Lewis and Jan L. Rowland.
Our next staged reading followed on March 1st and 2nd at the Cary Arts Center with Spring Forward. Thanks, again, go to our producer Noelle Barnard Azarelo and to directors Laura Bradford and Fred Yaffe; narrator, Dick Hayden; our talented ensemble cast members – Mike Bennett, Jack Berry, Christopher Bynum, Jeanine Denning, Jacqueline Dorry, Thom Haynes, Jeri McKee, Heather Shinpaugh, Terry Townsend, Carol Oleson, Megan Woronka, and Paul Yosim. And, again, to our creative, local playwrights –  Steve Gallagher, Marilynn Barner Anselmi, Brook North, Jarrett Lefler, Jack Berry, Phil Lewis and Jesse Lowe.
This was followed by a special collaboration between Owl Tree Theater for the People and CPF. The State I'm In was a fully staged series of plays produced as a fundraiser for the Cary Playwrights' Forum. Thanks to the ensemble cast members – Alison S. Davis, Ann Forsthoefel, Thom Haynes, Michael Teague, Sarah Winter, Michelle Corbitt, George Kaiser, Megan Woronka, Douglas Campen and Jeffrey A. Nugent and directors Kurt Benrud and Jesse Lowe. And a very special thanks to our out-of-state playwrights, Russell Dyball (Eugene, OR) and Timothy Baxter-Furgeson (Gaffney, SC), and our local playwright, Jesse Lowe (Cary, NC). Cary Playwrights' Forum wants to also thank the dedicated staff and crew who made this fundraising event possible.
We worked with a number of local organizations and production companies to bring locally created theater to our community including: WinterWorks Productions (September 15th and 16th – Pitfalls and Promises) and The Triangle Radio Reading Service (TRRS) serving the blind and those whose vision is impaired in the greater Triangle area by giving them access to traditional print media via radio (thanks to Kurt Benrud for his work with CPF and TRRS) and Owl Tree Theater for the People (March 22nd and 23rd – The State I'm In). Also, working with the Roving Readers of the Triangle we brought a reading of the 2010 Off-Broadway play "Fracturing" to the Carolina Meadows auditorium on September 5th to benefit the Sierra Club.  Thanks to Judith Ferster for organizing this event and Fred Yaffe for directing the production.
In addition, we started our first major community service project thanks to a grant awarded to CPF by the Town of Cary Lazy Daze Festival committee. Thanks to CPF Chair, Alison Davis for her efforts in obtaining this grant and to our Education Chair, Jesse Lowe who created a playwriting workshop that he is teaching this spring , with assistance from Sonia Usatch-Kuhn, at a local senior community, Carolina Preserves, to assist the development of new playwrights in our community.
And, of course, we continue to hold monthly playwriting meetings the third Wednesday of each month at the Cary Arts Center.  Thanks to Phil Lewis for hosting these meetings and providing guidance and assistance to our local playwrights.
We want to thank all our donors, supporters, volunteers and audiences who make all this possible! And, thanks to the 2012-2013 CPF Board – Alison Davis, Noelle Barnard Azarelo, Kurt Benrud, Laura Bradford, Phil Lewis, Jesse Lowe, Abbie Adams-Yaffe and Fred Yaffe for volunteering to support the work of our local playwrights.
We are already gearing up for another wonderful year! We are already planning collaborations with local production companies and community organizations to see what we can cook up for 2013-2014!  In July, several of our board members will be rolling off.  Thanks to Alison Davis, Phil Lewis and Kurt Benrud this past couple of years!  (We know you will still be working with us…but we will miss you on the board!) So, if you love theater and would like to join us…please fill out our Board Member Application and send it to Alison Davis at alison.davis@caryplaywrightsforum.org. We look forward to working with you!
The Cary Playwrights' Forum is a fully volunteer organization and none of this wonderfully creative theater could have happened without the dedicated, talented support of all of you!  Thanks for a great year!