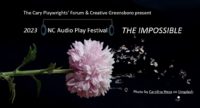 2023 NC Audio Play Festival
Announcing the fourth annual North Carolina Audio Play Festival (previously known as the NC Radio Play Festival)! A yearly collaboration between Cary Playwrights' Forum and Greensboro Playwrights' Forum, this festival provides a platform for North Carolinian writers to have their work produced and published at no cost.
Every year the festival has a theme, and this year that theme is…
THE IMPOSSIBLE
Traditional theatrical staging comes with a wide array of limitations—budgetary, practical, and otherwise. To paraphrase a famous fictional engineer, "you cannot change the laws of physics!" Fortunately, the audio play format affords the playwright the freedom to be as creative as their imagination will allow, and this year we're leaning into those flights of fancy and soliciting scripts that would be impossible (or extremely difficult) to stage with live actors.
Script Submission Requirements:
Scripts for selected audio plays should not exceed 10 minutes in length
Scripts must be submitted by 11:59:59pm on June 16, 2023
Playwright must be a North Carolina resident
Scripts should be written in standard play format [link to video example]
Maximum of two script submissions per playwright
Script Submission Link:   Google Form
Questions?
Contact the producers @ ncaudioplays@gmail.com
Who We Are
The Cary Playwrights Forum workshops and develops new stage plays written by North Carolinian playwrights. Its mission is to provide NC playwrights and aspiring playwrights opportunities to develop as dramatic writers. CPF is a nonprofit 501(c)(3) organization.
Founded in 1993, Creative Greensboro's Playwrights' Forum supports local aspiring playwrights in getting published or produced through contacts, marketing, and improving their skill as dramatic writers.