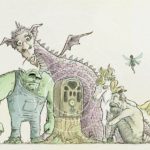 The Cary Playwrights' Forum is proud to present The Malone Family in the Enchanted Forest – a seven-episode action-comedy audio series written by Clinton Festa! All episodes are free to stream.
The Story
This fun, fantasy adventure follows Paul Malone, his daughters Rebecca and Nicole, their killer kitty, and their wall-busting horse in a hilarious journey from Salem, Massachusetts to The Enchanted Forest. Far from home, they encounter trolls, goblins, elves, unicorns, pixies, dragons, druids, banshees, and even a few dodo birds! But little do they know that an ancient curse will prove to be their greatest challenge yet! Will the Malones be able to defeat a magic that's powerful enough to doom both worlds? Tune it to find out!
Previews
WHUP 104.7 FM –  Lights Up! – Live 10/20/2021 preview broadcast!
Beltline to Broadway – Previews with Juan Isler – Juan can't wait for the next episode!
All Episodes
Episode 1 – The Witches of Salem      (Youtube) (Spotify)
Episode 2 – Welcome to Woods End      (Youtube) (Spotify)
Episode 3 – Poachers and Unicorns     (Youtube) (Spotify)
Episode 4 – Full Moon Date Night       (Youtube) (Spotify)
Episode 5 – Back from the Dead – Part I         (Youtube) (Spotify)
Episode 6 – Back from the Dead – Part II        (Youtube) (Spotify)
Episode 7 – The Christmas Special!    (Youtube) (Spotify)
Voice Cast
Chauncey Miller
Raine Palmer
El King
Lyra Benjamin
Rhonda Lemon
Charles Machalicky
Rebecca Stanifer
Jaimie Oakley
Sarianna Gregg
Meredith DiPaolo Stephens
Thom Haynes
Andy Ralston-Asumendi
Jini Zlatniski
Nate Oakley
Jay Zadeh
Andreas Phelps
Evelyn Festa
Drew McGinnis
Carl J. Grasso
Patsy Hawkins
Sally Kinka
Production Crew
Louis Panzer – composer and musician (theme song, scene change music, magic fife)
Sanna Festa – musician (harp music and effects)
Christian O'Neal – editor, sound designer, and producer
Clinton Festa – writer (all episodes), lyricist (theme song), and director
Jerome Eyquem – artist (promotional art)
Contact the producer for any questions
cpfradiohour@gmail.com