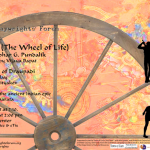 This 90-minute show will be Mar 4-5 at 7:30pm and Mar 6 at 2:00pm, 2016, in the Paul Cooper room at the Cary Arts Center (101 Dry Ave, Cary, NC 27511, (919) 469-4069).
It is a co-production of an English translation (by a Morrisville NC woman Dr. Vijaya Bapat, based on Vidyadahr G. Pundalik's script) of a 40-minute one-act about the circle of revenge and forgiveness/healing. It is based on one story from the ancient Indian epic The Mahabharata, and will include classical Indian music.
The one-act will be paired with a prologue episode 'The Story of Draupadi' (by Lydia Sbityakov) presented as shadow theatre, developed partly in a workshop with the Paperhand Puppet Intervention.
A portion of the proceeds will benefit the Marathi language program in Morrisville that was co-founded by the translator.
Tickets: $18 ($16 for seniors, vets, students).
Ticket options found HERE. 
Director: Lydia Sbityakov. Producers: Vijaya Bapat & Lydia Sbityakov (lydia@caryplaywrightsforum.org).
Listen to a radio interview with the producers about the show (minutes 31:20-39:50)!
Characters:
EMPRESS DRAUPADI (Seema Kukreja), wife of the Pandava brothers and daughter of King Draupad
RENUKA (Bianca Michalczak): Empress Draupadi's personal maid
MAID (Emily Tomasik): Renuka's assistant
BHIMSEN (Matthew Lubin): One of Draupadi's five husbands
ASHWATHAMA (Greg Guiliano): Man who killed Draupadi's sons.
NARRATORS (Snehal Bhagwat, Amarpreet Chawla)