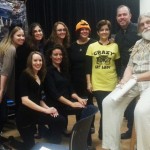 On Friday, October 11th and Saturday, October 12th, the Cary Playwrights' Forum held their October Staged Reading entitled, "Close Encounters – Tales of Space, Ghosts and Blood" in the Paul Copper Room of the Cary Arts Center.
It was two fun filled nights and we wish to thank everyone who participated in the event!  We couldn't have done it without you!
Here are some photos from the event!  Enjoy!
Click on a photo to start the slideshow!
[wppa type="album" album="3"][/wppa]