PlaySlam! – The Sketch-tacular 2023
The Cary Playwrights' Forum and Oak City Tonight present:
PLAYSLAM! – The Sketch-tacular 2023 (hosted by ComedyWorx)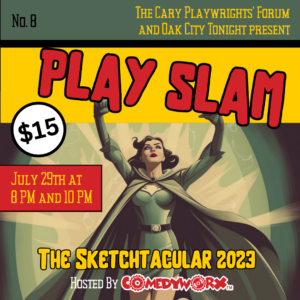 WHAT
A two-minute sketch comedy competition!
Playwrights submit up to two comedic scripts, each LESS THAN 2 MINUTES LONG. A reading committee will select scripts to produce from the submission pool. Then playwrights, filmmakers, directors, and actors will have just one Saturday to meet up, rehearse their plays, and perform that evening! A prize will be awarded to the top playwright – as voted by our audience!
SHOW TIMES AND TICKETS
Saturday, July 29th @ 8:00 PM – First Show (~70 minutes)
Saturday, July 29th @ 10:00 PM – Second Show (~70 minutes)
WHERE
3801 Hillsborough Street, Suite 123
Raleigh, NC 27607
FEATURED PLAYWRIGHTS (alphabetical by first name)
Allison Fradkin
April Giancola
Bonnie Milne Gardner
Clinton Festa – Winning Playwright ("History in the Making")
Jinna Kim
Judy Dove
Ken Walsh
Mike Brannon
Robert O'Connell
Rishi Chowdhary
Teddy Durgin
THE PERFORMERS (alphabetical by first name)
Amelia Lumpkin
Dan Cerullo
David Klionsky
Gabrielle Vizcaino
Heather Benjamin
Kit Philips
Michael Baciagalupo
Michelle Corbitt
Rebecca Peaire
Stephanie Yu
BUY TICKETS
Saturday, July 29th @ 8:00 PM – BUY TICKETS
Saturday, July 29th @ 10:00 PM – BUY TICKETS