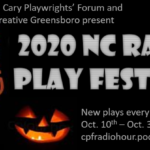 Announcing the 10 winning 10-minute plays, selected out of 30 entries from North Carolina writers!
The inaugural "NC Radio Play Festival – Halloween!" is a collaborative prerecorded (not live) audio play festival produced by the Cary Playwrights' Forum and the Greensboro Playwrights' Forum. The plays are fully-produced using local voice talent and fully-produced sound effects, and released on the CPF Radio Hour podcast site (https://cpfradiohour.podbean.com/). The radio plays were released in phases, premiering on October 10th, October 17th, October 24th, and October 31st. All were out before the very scary date of Nov 3 2020 🙂
The theme for this year's festival is Halloween – every script has elements of fantasy, horror, or the supernatural.
The NC Radio Play Festival marks the first major collaboration between the Greensboro Playwrights' Forum and the Cary Playwrights' Forum. The radio-play format ("Theatre of the Mind") allows playwrights to tell stories beyond what is normally practical for stage productions, unrestricted in scope and limited only by imagination.
All plays will be available indefinitely. No ticket or fee is required to listen.  
The Facebook event: https://www.facebook.com/events/1183043338731439/
Producers: Mike Brannon and Christian O'Neal
The plays are numbered at the podcast site. At the end of each play, your fearsome shock jocks Manny Mandible and Max (don't call her Maxine!) Mandible have planted easter eggs corresponding to these famous shows:
2- Alfred Hitchcock Presents
3- Steven Spielberg's Amazing Stories
5- Mystery Science Theater 3000
7- Beyond Belief: Fact or Fiction
10- Tales from the Darkside