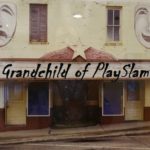 It's the RETURN of PLAYSLAM! – Our 3-minute play competition!
Playwrights submit two 1-3 minute scripts. A reading committee will select about 10 playwrights from the submission pool. Those playwrights will have just one Saturday to meet their cast, rehearse their plays, and perform that evening! Playwrights must be present at the event to direct their own plays. A prize will be awarded to the top playwright as voted by our audience!
We will need PLAYWRIGHTS, PERFORMERS, and VOLUNTEERS.
Submissions:     The submission window is NOT open yet, but expect February 2022
Performance:    Tentatively March 26th at The Cary Theater (122 E Chatham St, Cary, NC 27511)
More Information
Workshop Scripts
Workshop your 1-3 minute scripts at our Monthly Script Meetings