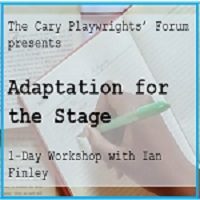 Adaptation for the Stage
The Cary Playwrights' Forum is offering a one-afternoon workshop on the surprising and sometimes non-intuitive tools of creating a play based on existing material, whether that's an existing book, our local history, or the writer's own life.
November 13th, 2022 (one day only!)
1-4 pm
Cary Arts Center – Studio M10
101 Dry Ave, Cary, NC 27511
Student Fee: $20
CLICK HERE TO REGISTER  Registration closes November 13th @ 1:30 PM
You can also visit or contact the Town of Cary box office to register.
Promotional photo Adegbenro Emmanuel Dipo on Unsplash
Instructor Bio
IAN FINLEY holds an MFA in Dramatic Writing from New York University, where he earned the Harry Kondoleon Award for playwriting. He is the author of plays, including NATIVE (featured at the NCWN 2018 Fall Conference), THE NATURE OF THE NAUTILUS (winner of the Kennedy Center's Jean Kennedy Smith Award 2002), and the OUR HISTORIES series of plays for Burning Coal Theatre Company. For this body of work, he was named the 2012 Piedmont Laureate. He has taught at Southern Methodist University, as well for the OLLI programs at NC State University and Duke University.
UPCOMING CLASSES
Stay Tuned for More!