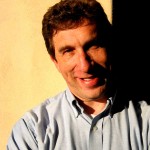 This special event is sponsored by the Cary Playwrights' Forum and the Town of Cary in conjunction with the Cary Players production of An Evening of Possibilities by Mark Harvey Levine.
During this four-hour workshop, each participant's submitted short play will be discussed and writers will receive feedback from Mr. Levine, a master of the short play form.  There will be a break for lunch.
This special workshop will take place on February 1,  2014 from 10:00 am – 3:30 pm.  The workshop fee is $25 and the workshop is limited to 8 participants.
To register please submit a short play about 10 pages long in pdf format to submissions@caryplaywrightsforum.org (put "Mark Harvey Levine Workshop" in the subject line) and send a check for $25 made out to Cary Playwrights' Forum, c/o Cary Arts Center,  101 Dry Ave, Cary, NC 27511.
Questions?  Please contact Lydia Sbityakov at lydia@caryplaywrightsforum.org.
To learn more about Mark Harvey Levine, please visit his website at http://markharveylevine.com