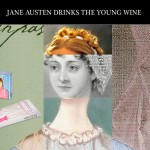 In July we'll hold auditions for our Sept 2015 'Bar' production, which will be performed at Cary's "Mac's Tavern", but FIRST, here's more info on our June production "Jane Austen Drinks the Young Wine", produced and directed by Jason Tyne-Zimmerman!
We tricked twelve playwrights into adapting "Pride and Prejudice"… they didn't know what show they were writing until it was done.  Come see the results!
Performances (fully produced; lines will be memorized) on

Friday, June 5 at 7:30

,

Saturday, June 6th at 7:30 pm

, and

Sunday, June 7th at 2:00 pm

at the Cary Arts Center main theatre!

Auditions at the Cary Arts Center on Mon Apr 6 (Principals Hall) 7:00 – 9:00 PM and Sun Apr 12 (Paul Cooper Room)  3:3

0 – 5:30 PM (you need only attend one). Sides will be available 30 minutes before.
Auditions will consist of cold readings from the script (monologues are optional). Acting resumes and head shots will be accepted but are not required. Please bring your calendar so you can provide us with any conflicts you may have during the rehearsal schedule.
Tech/Dress rehearsals will be held in the evenings on the following dates: 6/1 – 6/4. NO CONFLICTS during tech week.
Audition coordinator
Assistant to the Director
Stage Manager (paid)
Deck Crew Chief
Light Board Op
Sound Board Op
Assistant Stage Manager
Deck Crew (backstage), Ushers (sign up here)
Characters
: plan is to cast 13 actors in 15 roles (2 peeps will be double-cast)
Elizabeth Bennet: the second and most intelligent of the Bennet daughters. She is a receptionist at publishing house who moonlights as a dancer.
Charlotte Lucas: 27 years old and Elizabeth's best friend.
Mary Bennet: the only plain (not pretty) Bennet sister, and rather than join in some of the family activities, she mostly reads and practices music.
Catherine Bennet: the fourth daughter. Although older than her, she is the shadow of Lydia and follows in her pursuits of the 'Officers' of the regiment.
Lydia Bennet: the youngest Bennet sister. She is a frivolous and headstrong 19-year-old flirtatious working-class shop assistant.
Jane Bennet: the eldest Bennet sister. She is the most beautiful young lady in the neighborhood. Jane is favored by her mother because of her beauty.
Mr Fitzwilliam Darcy: poses as an editor of the renowned publishing company Pemberley and Normal, but is actually from the planet Gallifrey.
George Wickham: acquainted with Mr Darcy since childhood, being the son of Mr Darcy's father's steward. He is a charming officer in Space Rangers.
Mrs Bennet: the wife of her social superior Mr Bennet and mother of Elizabeth and her sisters. She is frivolous, excitable, and narrow-minded.
Mr Bennet: the patriarch of the Bennet family, a gentleman of modest income with five unmarried daughters. Mr Bennet is ironic and cynical.
Vinny is a cousin of the Bennets and a professional dancer from Brooklyn.
Marlin "The Fish" Boigler: the head of a powerful Mafia family in Raleigh. He moved to Boigler Cove after joining the witness protection program.
Mr. Archie Bunker Normal: poses as a Scottish Ranger of Edinburgh Castle and president of Pemberly and Normal, but is actually a "Time Agent".
Mrs. Aloysius Normal née Snuffleupagus or Snuffy: one of the characters on the educational television program for young children, Sesame Street.
Jane Austen: one of the most widely read writers in English literature.